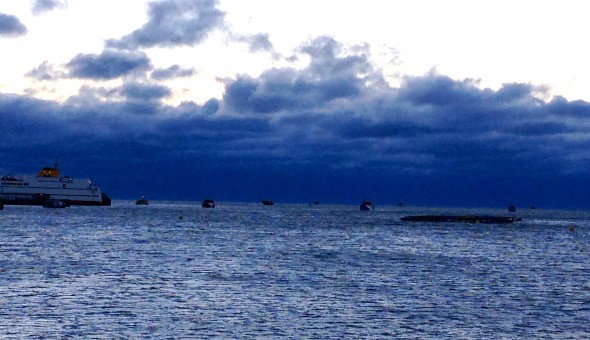 Photo credit: Bonnie Morse.  North Head boats sail back into port on November 13, 2013, after Grand Manan fishermen voluntarily close LFA 38 due to unfavourable weather conditions.
Press Release
Grand Manan, NB – Grand Manan's Lobster Fishing Area (LFA 38) opens annually on the second Tuesday in November.  After reviewing the weather forecast Monday, fishermen agreed to delay the lobster fishery opening for 24 hours, when the forecast gave lower winds.  DFO issued a variation order changing the opening to Wednesday morning at 7:00 am. Wednesday morning, the winds were higher than forecast.  After talking amongst themselves, Grand Manan fishermen agreed to voluntarily stayed tied to the wharf and asked the Department of Fisheries and Oceans to close their district for at least another day.
"We looked at the forecast Tuesday," says Laurence Cook, chair of the GMFA Lobster Committee and the LFA 38 Advisory Committee.  "There was much more wind yesterday morning than was forecast.  We all agreed it was better that we stay in until everyone could set at the same time."
LFA 38 shares area LFA 37 with neighbouring district 36, who opened yesterday morning as planned.  According to Brian Guptill, President of the Grand Manan Fishermen's Association: "Some of our boats made a definite financial sacrifice because they lost their traditional bottom by deciding to stay in.  It shows what our community can do when we decide to work together."
Fishermen will continue to monitor weather forecasts in co-operation with the Department of Fisheries and Oceans and Environment Canada to make a decision to reopen the fishery. We appreciate the support of the Department of Fisheries and Oceans on Wednesday to issue a variation order to officially close the fishery. The marine forecast will be reviewed Thursday morning to make a decision on opening on Friday.
For more information, please contact 506-662-8481.